About the Order
More about O.Ss.S. i.e. the Birgittine Order's Family
If you thought that there was only us, then you thought wrong! We are actually more, in all four. Not four nuns but four different kinds of so called branches on the same vine, or four ground-shoots of it, because vine can have ground-shoots (we have checked with a French wine-grower). These ground-shoots were namely founded quite independently of each other and have not developed from each other.
Or would it be more correct to say that we just now are four (perhaps with a fifth on its way, we think that we have seen a small seed leaf crop up) different families which belong to one and the same Order? Or are we four different kinds of vine within that vineyard, which Our Lord, in the Rule of the Order which He gave to Saint Birgitta, promised that He Himself should plant? And Our Lord, who is so inventive and never would create two exact copies, should He then be satisfied with just one sort of vine in His new vineyard! - Ugh! We are not quite clear about how to express this. It is difficult, this thing with different pictures which do not quite fit together...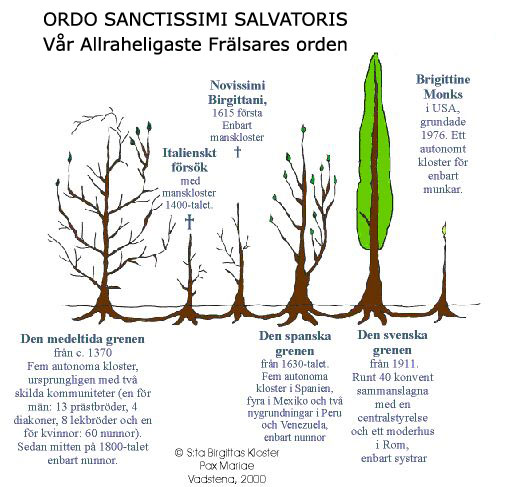 © S:ta Birgittas Kloster Pax Mariae Vadstena, 2002
The first monastery of the Lord's new vineyard was right here in Vadstena. From here it spread to many places in Europe, mainly during the Middle Ages. By the time of the reformation and later on, during the French revolution and secularisation, many of these institutions were closed.
1. At the present time there are three independent abbeys from the old branch (or the original, medieval branch). Originally each monastery had both nuns as well as brothers in two separate convents beside each other, but since the 1850's there are only nuns left.
The three remaining monasteries are Maria Refugie (Mary's Refuge) in Uden/The Netherlands, (our former mother house, from which we were re-founded in 1963 after having been in exile since 1595 when the last Vadstena nuns fled to Danzig). You find Altomünster in Germany and our abbey here in Vadstena. Its name is Pax Mariae, Mary's peace. In 1988 we became an independent priory, that is, no longer a "daughter" monastery, but one with our own democratically elected prioress and in 1991 we became an abbey, with our own abbess as the elected leader. Then there is Maria Hart, (Mary's Heart) in Weert, also in The Netherlands, nowadays, in april 2006, fusioned with another of the branches in an unique experiment. Syon Abbey in England, does not exist as a monastery any longer (since 2012).
As you can conclude, some changes have taken place since the picture above was made.
2. In the years around 1630, a Spanish branch of the Order was approved. It had been founded by a Spanish lady named Marina de Escobar, who through a series of revelations received the inspiration to found this new branch of our Order, with its rule modified to Spanish circumstances. There are now four independent monasteries in Spain, four in Mexico and one new foundation in Venezuela. The Spanish branch of the Order has only ever had female members.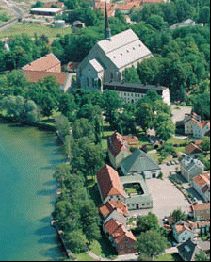 © Åke Svensson, Motala

The medieval monastery in Vadstena in the background and the new abbey in the foreground.
3. In the year 1911 a new branch came into being through av young Swedish woman, Elisabeth Hesselblad, whose was beatified in 2000. She was able to assume the possession of that house in Rome, where Saint Birgitta stayed for many years. It is nowadays the Mother House of this branch of the Order, which is built on a different pattern from the two older branches. The many different communities belonging to this branch are all under one democratically elected council with a General Abbess at the head. Blessed Mother Elisabeth was able to bring the Birgittines back to Sweden. They had their first house in Djursholm 1923. Between the years 1935 and 1963 they had a rest home and guesthouse in Vadstena and since 1968 they also have a convent in Falun. This branch has more than 40 houses almost all over the world (from those several in India). The link to this branch you can find on the "link page".
4. The latest twig on the vine is a community of brothers in U.S.A, The Brigittine Monks. They have been in existence since 1976. They are contemplative and earn their living by making candy. (Very nice indeed - we know, we have checked it!) The link to this branch you can find on the "link page".