Vocation as a Brigittine nun
Might you have a vocation for the religious life in our abbey?
Called - vocation?

First and foremost: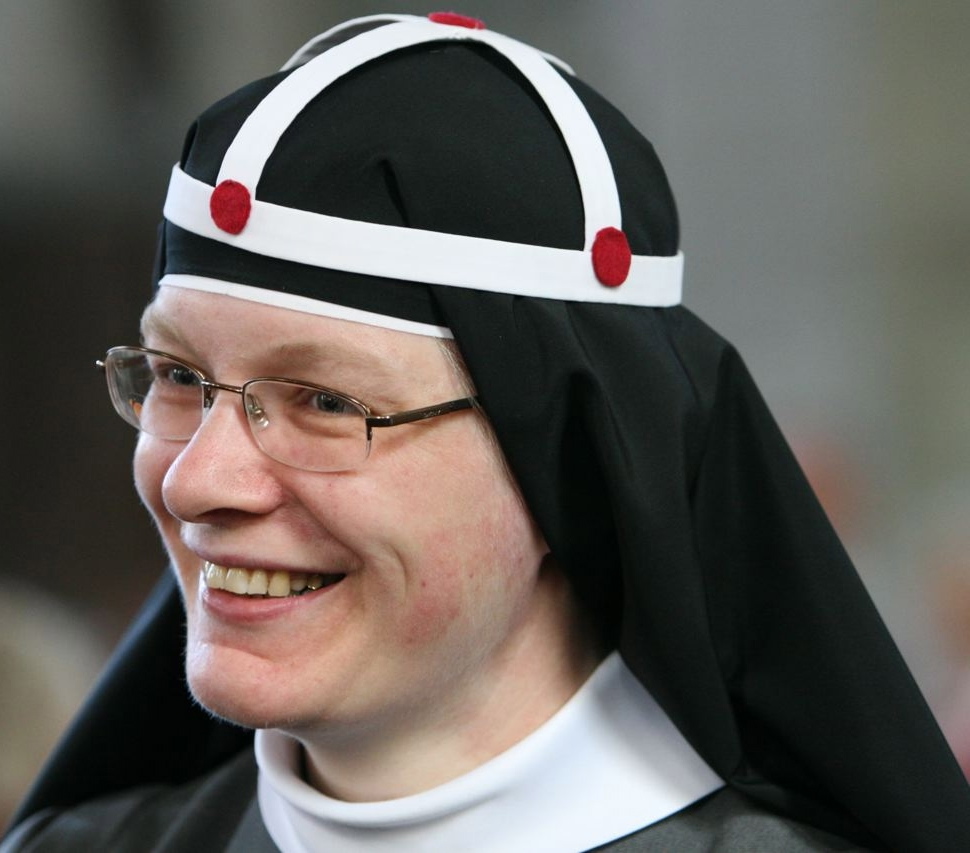 everybody has a vocation to serve God .
He has a plan for each of us.
BUT SECONDLY, if you are INTERESTED in a life

in joy

in the service of God

in simplicity

in prayer and meditation (contemplative life)

in communal living with others

in a multi-cultural milieu to work in "Sweden's Catholic Centre" and be available for others

...

Then maybe you have a vocation to become a Birgittine nun in Vadstena!

BUT: How do I know?

By the longing you have to find God and His will for you
or that He will have you for Himself with all your heart
or that you have a certain feeling for life in company with others in an oasis of prayer
And perhaps through being 'uneasy', you are drawn to see nuns, monks and others who live entirely for God

What do we do?

sing the Church's Daily Prayer and attend

the

Mass

Pray privately for people and different needs

Work with ordinary household tasks in a Guest House, office, etc

Meet guests and pilgrims and see to their needs
If necessary and you are apt to it:

Speak to other persons

Prepare meditations for retreat weekends , for example

.


What is required to be a Birgittine in Vadstena?

Good physical health

Ability to stand on her own feet

Adaptability

to various situations and people

Freedom from other vows ( e.g.

matrimony, children

or

the responsibility of caring for aging

parents, etc)

Humour and happiness
Desire to live apart from more mundane things
A will to leave your job and learn something new, get new values
A will to seek God and do His will

What is the training?

Postulant for 8 months up to 2 years in ordinary clothes
Novice for 2 years (in the religious habit and a white veil)
Temporary vows (poverty, celibacy and obedience) first for 3 years, then for 2 more years, still in the habit but with a black veil)
Permanent vows after 8 years in the abbey (complete habit of the order, crown and ring)

What distinguishes our spirituality?
Meditation on and trying to understand Jesus' work of the redemption of all people by His death on the Cross. Perhaps we can see ourselves standing beside His Mother under the Cross. This motif is engraved on our profession ring. The crown we wear is a reminder of the Crown of Thorns and Jesus' five wounds.
Our lives are distinguished by a theological simplicity, of a decidedly intellectual theology which does not hinder us from exerting ourselves to find an even deeper way of forming our spirituality. You are welcome to try!

Can one come and try it out?
Yes. You may come and try it out, perhaps first without any of the nuns knowing what you are looking for, or by coming as a guest or a 'summer-girl' or winter-autumn-spring girl!
Or would you rather take part in a 'try it out' weekend or ask to stay for a little while with us, about a month.

What are the rules?
We live according to Saint Augustine's Rule with Saint Birgitta's Rule as handbook. In the latter, you can find out how someone is received into the order, how poverty works, why celibacy and enclosure rule us, that is, why we don't go out unless it is necessary etc.

Who are we right now?
We are a blessed mixture of nuns from Sweden, Finland, The Netherlands, Germany and New Zealand. And our previous backgrounds are as varie as we are ourselves, some direct from school, others with further education or some useful job (one even as a dress-maker), some up to university level with several years' s work experience. But we would be delighted to have somebody too who could paint or paper a room!

Come and try it out!